Vallibel Finance opens its latest branch at Wariyapola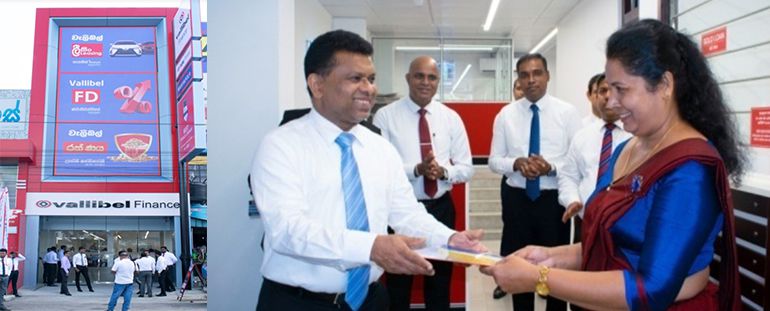 18-09-2023
Vallibel Finance cementing its presence island-wide, inaugurated its Wariyapola branch recently to serve customers in the area. The new branch was officially declared open by the Managing Director of Vallibel Finance Mr. Jayantha Rangamuwa, in the presence of staff and customers. Customers in Wariyapola now have access Vallibel Finance's wide range of financial products and services including Leasing, Fixed Deposits, Gold Loans, Group Personal Loans, Mortgage Loans, Education Loans, Auto Drafts and Microfinance products deployed via a cutting-edge technological framework.
Addressing the audience at the branch opening, Mr. Rangamuwa said, "We are delighted to open our doors to residents of Wariyapola, a thriving town that will benefit from our unique financial solutions. The new branch will serve customers with our legendary service standards in an efficient and professional manner, to secure their financial future."
Offering people-friendly financial and technical innovations, the Company takes pride in its ability to feel the pulse of the people, understanding their unique needs and challenges to offer a unique proposition that calls for authentically home-grown solutions for its customers.
Vallibel Finance has a distinguished legacy spanning 16 years, marked by consistent growth and an unwavering dedication to customer service. With a primary emphasis on addressing the diverse needs of customers nationwide,regardless of magnitude, Vallibel Finance strives to provide innovative and tailored financial solutions with a strategically established network of over 60 branches across Sri Lanka.
Reflecting its rapid ascension, Vallibel Finance inaugurated its new corporate office in Colombo this year, which has become a symbol of excellence within the financial services industry and yet another remarkable milestone for Vallibel Finance. The corporate office building is a testament to the dedication of all personnel involved, showcasing the company's resilience and commitment to adaptability and strong financial management.
Vallibel Finance's unwavering commitment to creating stakeholder value, building trust, and fostering confidence has solidified its position as a trusted partner for individuals and businesses. Its focus on customer satisfaction, innovative financial solutions, and transparent operations has been key to this success.