Vallibel Finance growing skywards with a multi story new tower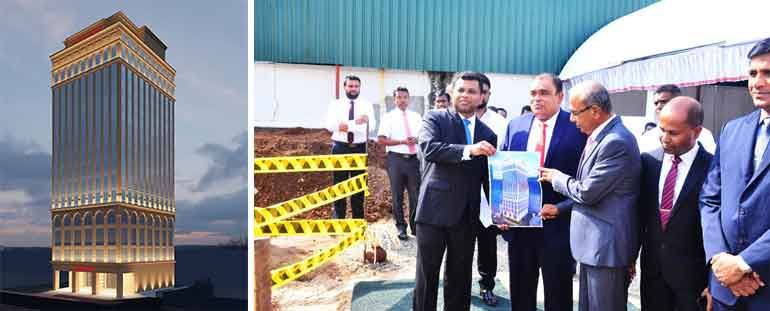 06-12-2019
Vallibel Finance set its sights on a multi story new headquarters building that will soon join Sri Lanka's impressive skyline. Billed to be a state-of-the-art financial center in downtown Colombo 3, the foundation stone for the showpiece tower was laid by Mr. Dhammika Perera, Chairman of the diversified Vallibel Group and Mr. Jayantha Rangamuwa, the Managing Director of Vallibel Finance in the presence of the company's Board of Directors, Senior Managers and well-wishers.
The new financial tower consolidates Vallibel's stature as the fastest-growing finance company in the country and is seen as a confidence-booster at a decisive time in the local economy. This marks a landmark not just for the company but for the finance industry as a whole and the new tower will drive the name-bearer of the Vallibel Group to even further heights".
Carrying the hallmarks of a unique architectural masterpiece, the multi story building is expected to stand out just the way it has on many fronts in its short but pace-setting 12 years. Industry analysts believe that the massive public confidence the company enjoys is founded on Vallibel's ability to differentiate itself with financial solutions that find a natural fit with the aspirations of the people, as well as, its resounding financial performances even through volatile times.
With the tower's opening in just two years, Vallibel Finance is poised for a new chapter in Finance and in creating wealth for people across the land. From its cutting-edge design to infrastructure inspired on the latest in innovation, Vallibel will be home to a new era of financial excellence and a team of passionate achievers from the outset.