Vallibel Finance Unveils Impressive New Corporate Office in the Heart of Colombo.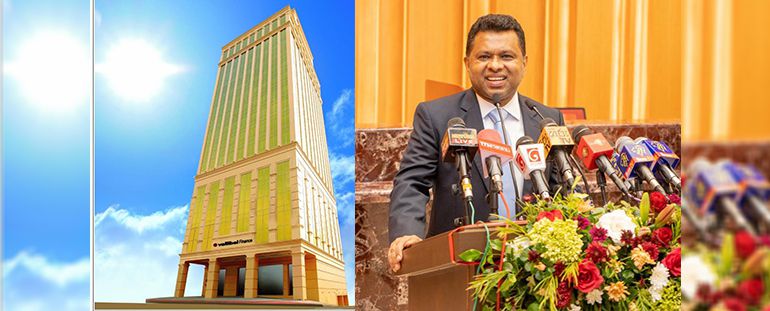 02-06-2023
Vallibel Finance, under renowned vallibel group is pleased to announce the opening of its new corporate office, a striking addition to Colombo's skyline. This state-of-the-art office complex was inaugurated on 1st June 2023, and is positioned to be a symbol of excellence within the financial services industry serving as another remarkable milestone for Vallibel Finance.
The ceremonial act of cutting the official ribbon was executed by Jayantha Rangamuwa, the Managing Director, and Founder Director of Vallibel Finance Anuradha Perera. The presence of esteemed guests, including employees, customers, business partners, and other distinguished invitees made this event memorable for all.
Vallibel Finance commenced construction of this highly anticipated corporate office complex amidst challenging economic conditions in July 2020. The foundation stone of this edifice was laid by Dhammika Perera, Founder Chairman of Vallibel Finance, and Jayantha Rangamuwa, Managing Director of the company.
Throughout the subsequent years, the company faced numerous challenges, but still, completed construction within two and a half years. The unwavering determination of the company's leadership and the relentless perseverance exhibited by the management and construction partners played a vital role in making this achievement possible. The corporate office building is a testament to the dedication of all personnel involved, showcasing the company's resilience and commitment to adaptability and strong financial management.
Vallibel Finance's unwavering commitment to creating stakeholder value, building trust, and fostering confidence has solidified its position as a trusted partner for individuals and businesses. Their focus on customer satisfaction, innovative financial solutions, and transparent operations has been key to this success. Furthermore, the corporate office complex, with its exceptional architectural brilliance, will offer a multitude of benefits and conveniences for both customers and employees.
Jayantha Rangamuwa, the Managing Director, states, "Our Company's remarkable journey showcases the vital importance of a central hub, enabling strategic decision-making that extends beyond mere business enhancement to encompass stakeholder needs."
Additionally, Rangamuwa referred to being mindful of their duty to create value for stakeholders by providing them with a focal point they could embrace as the centre of financial services under the esteemed Vallibel brand. He said, "On behalf of the leadership and management, I take this opportunity to thank all stakeholders, including customers, employees, regulators, and partners for the trust and confidence they have bestowed upon us throughout these years, enabling Vallibel Finance to grow from a young player in the industry into an innovative and pioneering financial service provider."
Vallibel Finance has a distinguished legacy spanning 16 years, marked by consistent growth and an unwavering dedication to customer service. With a primary emphasis on addressing the diverse needs of customers nationwide, regardless of magnitude, Vallibel Finance strives to provide innovative and tailored financial solutions with a strategically established network of over 60 branches across Sri Lanka.
Equipped with its cutting-edge corporate office, considered a landmark in its own right, and firmly established as a benchmark company within the financial services sector, Vallibel Finance stands poised to embrace forthcoming challenges and successfully navigate through turbulent environments.