Vallibel Finance Open Doors to Matugama and Dematagoda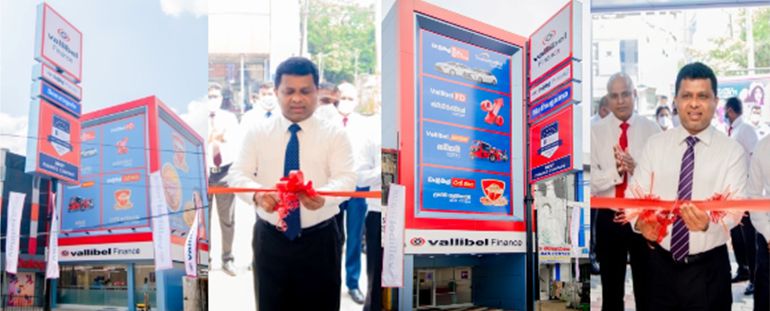 12-04-2022
Vallibel Finance continues to expand its network with the opening of two new branches in Matugama and Dematagoda. The inauguration of the two new branches took place recently in the presence of Mr. Jayantha Rangamuwa, Managing Director of Vallibel Finance PLC.
The two branch locations were selected due to strategic importance and high demand from the communities and customers in and around Matugama and Dematagoda for Vallibel Finance's wide range of beneficial products and services.
"At Vallibel Finance, we ensure that our customers receive nothing but the most superlative service with our innovative financial solutions delivered in a state-of-the-art spacious and comfortable environment," Mr. Rangamuwa said, speaking at the inauguration ceremony.
"Vallibel Finance has built a reputation as a highly-trusted and fastest-growing finance company despite the many challenges prevailing in the country today. More significantly, the Company successfully maintained its Non Performing Loans (NPLs) well below the industry standards by leveraging on its strong relationships with customers and its efficient systems and processes. - DEMATAGODA MATUGAMA Maintaining low NPLs amidst the challenges induced by the pandemic and the economic crisis reflects the expert management of the Company's portfolio."
As a result of demonstrating exceptional performance across all its KPIs including growth, stability, profit and expansion in the face of challenges as at today, Vallibel Finance was awarded the "Best Finance Company 2022" for the 2nd consecutive year by The Global Economics UK.
Offering people-friendly financial and technical innovations, the Company takes pride in its ability to feel the pulse of the people, understanding that the needs and challenges are so intricate that each new locality offers a unique proposition that calls for authentically home- grown solutions for its customers.
Vallibel Finance specializes in offering a wide range of financial services including Fixed Deposits, Leasing, Auto Draft Gold Loans, Micro-Finance products supported by a cutting-edge technological framework.