Vallibel Finance posts solid performance in very challenging year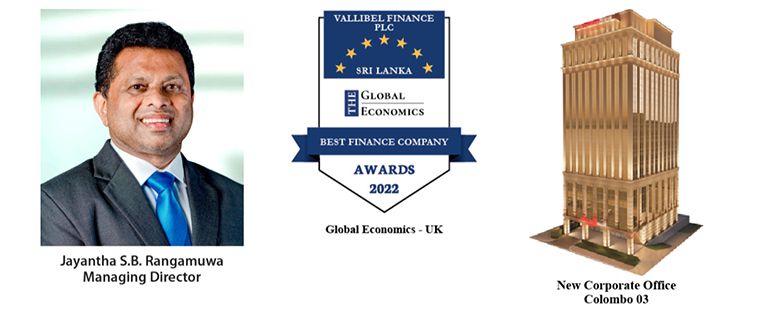 09-09-2022
Vallibel Finance PLC yet again demonstrated its time-tested resilience and industry leadership status by achieving outstanding financial performance for the 2021/22 year despite the external challenges that prevailed through the period.
The Company recorded a pre-tax profit of Rs. 4.7 billion (67.1% increase) in comparison with Rs. 2.8 billion recorded in 2020/21. Profit after Tax rose to Rs. 2.9 billion from Rs. 1.7 billion in the previous year.
The company's prudent financial discipline is reflected in its Non-Performing Loans (NPL) ratio strengthening to 2.73 % from 4.48% in the previous year despite the deterioration in the economy.
Vallibel Finance approached the year with empathy for customers engaged in industries which were particularly affected by the pandemic whilst ensuring its ambitious profit targets were met through a strategic recovery and collection drive.
Net Loan Portfolio expanded to Rs. 65.6 Bn in the period under review from Rs.47.7 billion previously, reflecting a growth of 37.5 % as a result of the company' constant growth strategy.
Customers demonstrated strong loyalty and placed their faith in Vallibel Finance to safeguard and enhance their wealth. Deposits soared to Rs. 41.0 billion, a commendable growth by 27.5% from Rs. 32 billion in the previous year.
Total Assets increased to Rs. 77.6 billion, expanding by 40.7 % from the previous figure of Rs. 55.2 billion.
"We have been able to record impeccable performance, both qualitative and quantitative during a very challenging and daunting period of time. This is a testament to the ability of our remarkable workforce, our strength, our dedication, our constant need to better ourselves and implementations of our high performing strategies said Managing Director Jayantha Rangamuwa.
Commenting further, Rangamuwa said, "Achieving profitability amongst the challenging operating conditions in the year under review proves the stability, wealth of professional people and processes which are the real assets of Vallibel Finance.
It is the dedication of the entire team and the effective business model and governance framework that empowers us it's to create wealth and prosperity for all its stakeholders and shareholders."
Vallibel Finance will be home to a state-of-the-art and an iconic landmark building with its cutting-edge design to infrastructure inspired, with the new corporate office at Colombo 03.