Vallibel Finance expands assurance of trust to Kohuwala and Piliyandala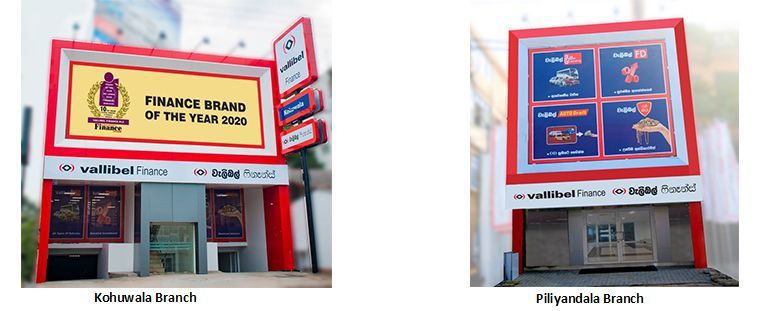 17-09-2020
Vallibel Finance unveiled its renowned brand of financial services from its dedicated new branch in Kohuwala, a region famous as Sri Lanka's largest vehicle hub. Its Piliyandala Branch also relocated, sparkling brighter in a locality it has been deeply rooted.
The Managing Director of Vallibel Finance Mr. JayanthaRangamuwa, graced the occasion of the inaugural ceremony and proudly declared opened the two branches to the public amidst a distinguished gathering of loyal customers and well wishers.
"We have a great relationship in Kohuwala and Piliyandala, bringing financial solutions tailor-made to a vast number of people. The two new branches will be able to broaden our offerings, enhancing the quality and speed of service which Sri Lanka know us for, said Mr. Rangamuwa, speaking at the unveiling.
Mr. Rangamuwa, further stated "Our corporate mandate is to make available our services in the most approachable and reachable manner to our customers!" At every instance we strive to provide financial solutions in the most creative and innovative ways that suit the requirement of the customer by understanding their specific need and thereby catering accurately with our well-planned products and services. We are extremely proud to be able to introduce yet
another locations in both Kohuwalaand Piliyandalato our ever expanding branch network and relocate our Piliyandala Branch to a strategic location" he added.
Vallibel Finance continues to take firm roots across the country and deals primarily in Leasing, , Fixed Deposits, Gold Loans, Group Personal Loans, Mortgage Loans, Education Loans, Auto Drafts and Microfinance products deployed via a cutting-edge technological framework.
Vallibel Finance was honored and awarded as the Brand of the Year 2020, while upgrading the brand rating to "A+", while enhancing its widely established brand reputation of being a strong and respected industry name, achieved within a relatively short period of time.