Vallibel Finance now in Pelawatte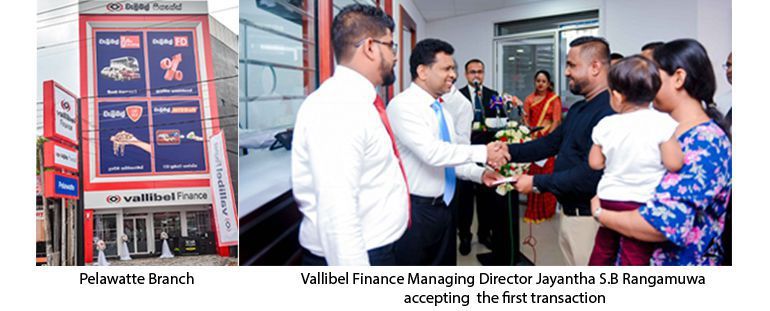 22-08-2019
Blazing a new trail as Sri Lanka's most respected finance company, Vallibel Finance unveiled its latest branch in Pelawatte, Battaramulla recently. Pelawatte is a modern suburb in every sense. Touching distance from the Parliament Complex and adjacent to Battaramulla and Thalawatugoda – two of Colombo's fastest-developing towns, Pelawatte has seen an impressive transformation from a wooded and sleepy neighborhood to a robust center of growth. "The kind of residents - governmental, commercial and residential – that Pelawatte has attracted is exceedingly impressive and speaks volumes for its location and infrastructure.
Vallibel Finance is here in Pelawatte to respond to the diverse and visionary thinking of the town's population, says Mr. Jayantha Rangamuwa who addressed the large gathering at the ceremonial opening.
Mr. Rangamuwa drove home to the expectant audience just how Vallibel Finance leapfrogged a vastly competitive field in becoming Sri Lanka's most respected finance company while assuring that the township now has, under one roof, the entire gamut of financial tools demanded on the cutting-edge of development.
Pelawatte presents a highly complex audience and Vallibel Finance offers a vantage point to reaching the pinnacle of success – no matter what the dream or the need may be, said Mr. Ramgamuwa.
As with its entire island-wide branch network, Pelawatte is also developed featuring state-of the-art financial infrastructure with a team of financial wizards honed with the skills to understand the pulse of the neighborhood it serves, he said.
Increasingly popular wherever it goes as the name-bearer of one of Sri Lanka's most respected conglomerates, Vallibel Finance has revolutionized the role of a finance company with breakthrough products of the likes of Auto Draft bringing financial support with the kind of speed and ease never seen before. Alongside people-friendly technical innovations, the Company prides in its ability to feel the pulse of the people, understanding that needs and challenges are so intricate that each new locality offers a unique proposition that calls for authentically home-grown solutions.
Vallibel Finance deals primarily in Leasing, Gold Loans, Fixed Deposits, Group Personal Loans, Mortgage Loans, Education Loans, Auto Drafts and Microfinance products deployed via a cutting-edge technological framework.
Vallibel Finance, accolade being the "Most admired companies in Sri Lanka" by International Chamber of Commerce (ICC) in 2018 for its outstanding performance and growth.