'DP Education Virtual Classroom' goes live at St. Aloysius' College, Galle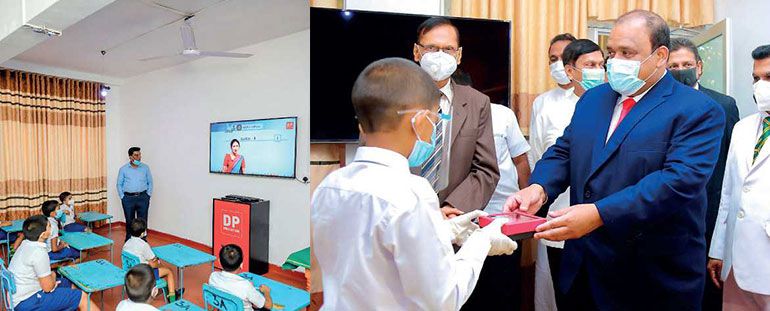 15-03-2021
Extending state-of-the-art classroom facilities designed to support educational excellence among school children, philanthropist Dhammika Perera and his wife Priscilla Perera launched 'DP Education Virtual Classroom' at St. Aloysius' College in Galle on 16 February.
DP Education Virtual Classroom is the latest initiative where selected schools are provided with DP Education content along with a smart state-of-the-art interactive TV system to access unlimited educational content. This will enable students to enhance their skills in Mathematics, Science and English at any given time.
The ceremonial opening of the DP Education Virtual Classroom was held under the patronage of Education Minister Prof. G. L. Peiris, DP Foundation founder Dhammika Perera, St. Aloysius' College Galle Principal Nayanapria Perera and DP Education Mathematics Teachers Dushyantha Mahabaduge and Joy Malcolm. A few of the school children, teachers and parents from St. Aloysius' College also participated at the inauguration.
The launch of DP Education Virtual Classroom represents the latest in a series of initiatives as part of the Foundation's groundbreaking efforts to leverage platforms like DP Kids, DP Education and DP Digital University to deliver free education and empower a new generation of Sri Lankan preschools, schools and universities. The Foundation opened the second virtual classroom at St. Paul's Girls' School –Milagiriya.