Vallibel Finance Expands It's Footprints To Ja-ela And Thambuththegama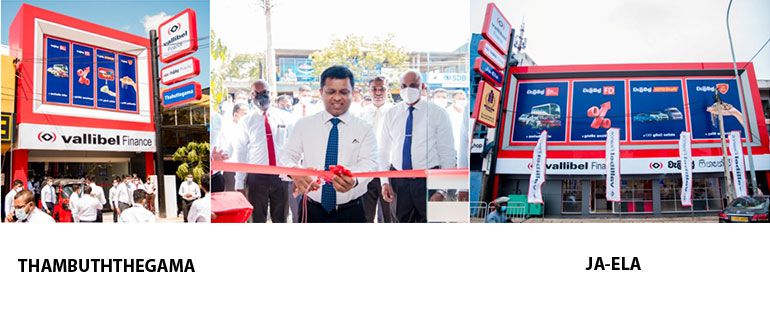 07-01-2021
Vallibel Finance, the renowned brand of financial services recently expanded its network across the country, with its most recent branch openings in Ja-Ela and Thambuththegama. The two new branches will be able to support and allow better access to quick and efficient financial facilities to all those in the Colombo's suburbs - Ja-ela and Northern part of the country Thambuththegama.
The Managing Director of Vallibel Finance Mr. Jayantha Rangamuwa, graced the occasion of the inaugural ceremony and proudly declared opened the two branches to the public amidst a distinguished gathering of loyal customers and well wishers.
"Adding up of the new two branches to our network is a significant achievement for us, as it allows us to reach out to more customers in the island. We, at Vallibel Finance have always made sure to maintain a customer-centric approach in all our endeavors. Our primary concern is to ensure that our customers receive the very best of our services. I believe that the success of Vallibel Finance has always entrenched in our customers," said Jayantha Rangamuwa, Managing Director of Vallibel Finance.
The financial facilities range from Fixed Deposits, Leasing, Gold Loans, Housing Loans and many other financial solutions with competitive benefits and returns. Customers can enjoy hassle-free services to facilitate their financial needs from the two new branches, Ja-ela and Thambuththegama.
Vallibel Finance was awarded as the Brand of the Year 2020, while upgrading the brand rating to "A+", while enhancing its widely established brand reputation of being a strong and respected industry name, achieved within a relatively short period of time. Vallibel Finance has once again been listed as one of the Great Workplaces to work in Sri Lanka for the second successive years of 2019 and 2020.