Vallibel Finance orders on-time construction of landmark building, Sanken gets contract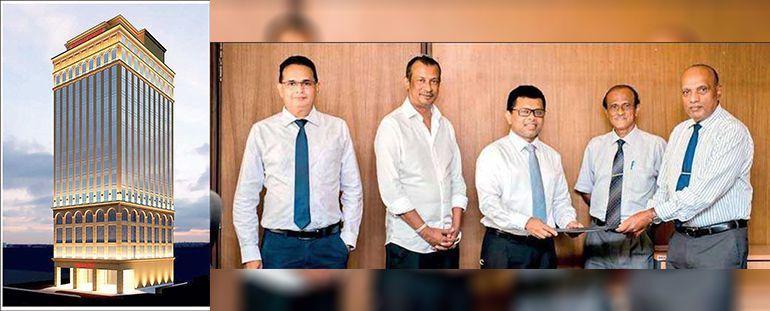 01-07-2020
Move to proceed with 16-storey state-of-the-art headquarters a confidence booster for economy
Unfazed by the economic meltdown precipitated by the new coronavirus pandemic, financial heavy-weight Vallibel Finance has ordered the construction of its state-of-the-art headquarters sky-rise as scheduled.
The bold move by the flag-bearer of the Vallibel Group offers a much-needed confidence boost to the wheels of progress of the economy while affirming the financial stability of the company.
The construction of the 16-storey financial centre in downtown Colombo 3 was awarded to Sanken Construction, a leading light in construction with Vallibel Finance Managing Director Jayantha Rangamuwa handing over the contract to Sanken Construction Managing Director Ranjith Gunatilleke.
Piling for the project had already been commissioned and completed by Access Engineering.
"We may be in the middle of overwhelmingly difficult times but at a time when Sri Lanka has impressed the world with its handling of the pandemic, we also need to show resilience in the face of adversity and faith in our potential as a nation. Today, Vallibel Finance rises to the challenge with this bold move," said Jayantha Rangamuwa.
The new financial tower consolidates Vallibel's stature as the fastest-growing and most respected finance company in the country and its decision to commission construction of its new headquarters amplifies the company's reputation as a trailblazer in corporate Sri Lanka.
"It's our shared responsibility to rebuild Sri Lanka and our decision not to delay our most ambitious investment yet speaks volumes of Vallibel's commitment to the economy and its preparedness to face the most daunting challenges," said Rangamuwa.
Carrying the hallmarks of a unique architectural masterpiece, the 16-storey building is expected to stand out just the way it has on many fronts in its short but pace-setting 12 years. These include being named by LMD as the most respected finance company in Sri Lanka, the quickest quoted company to cross the milestone of Rs. 1 billion in profits and assets over Rs. 52 billion.
Industry analysts believe that the massive public confidence the company enjoys is founded on Vallibel's ability to differentiate itself with financial solutions that find a natural fit with the aspirations of the people, as well as, its resounding financial performances even through volatile times.