Vallibel Finance opens iconic Metro Branch in Kurunegala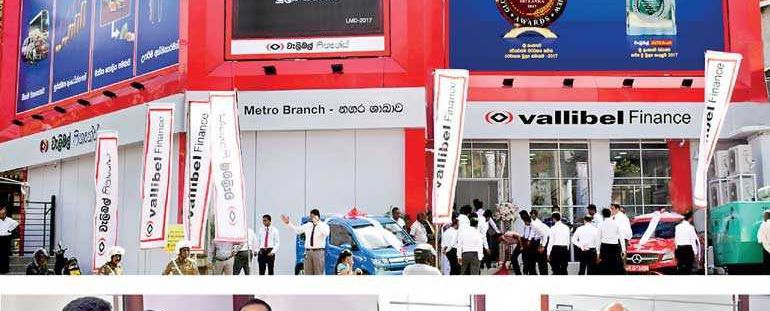 02-05-2018
Financial protagonist Vallibel Finance gifted robust Kurunegala another customer point, a stately financial hub aptly called the Kurunegala Metro Branch.
Located at the heart of downtown Kurunegala, at No. 36, Surathissa Mawatha, the high-tech, architecturally-endowed facility will serve customers looking to conduct their financial transactions on the cutting-edge in a modern setting. In addition to the existing Kurunegala branch this second branch was mainly created to offer customers a much bigger and better range of financial services.

"Kurunegala is teaming with enterprising people and an increasing section of the population is upwardly-mobile. Vallibel's Metro Branch will offer them a vantage point that will not only make them feel great but also offer tailor-made solutions to their discerning financial requirements," said Vallibel Finance Managing Director Jayantha Rangamuwa.

Embellished with its customary red and white look and feel, the branch makes Vallibel's loyal customers in Kurunegala feel right at home, offering them financial products and services on the cutting-edge while also making room for rapidly increasing demand for the financial company which is hailed as one of the most respected in the industry.

"We have been at the epic centre of success for so many people in Kurunegala for several years and now we have doubled our presence, coming to the epic centre of business, as well, with our new Metro Branch taking its place as a distinguished corporate citizen of the city," said Rangamuwa, speaking to a large gathering of high profile individuals and customers at the inauguration of the new branch.

Vallibel Finance continues to take firm roots across the country and its forays on the pinnacle of success have ensured its place in LMD's top 100 companies in Sri Lanka. Vallibel Finance deals primarily in leasing, hire purchase, gold loans, fixed deposits, group personal loans, mortgage loans, education loans, auto drafts and microfinance products deployed via a cutting-edge technological framework.

The name-bearer of the highly diversified Vallibel Group, Vallibel Finance which is recognised as the 'Most Respected Finance Company in Sri Lanka (2017)' by LMD, was inaugurated under the astute leadership of Vallibel Group Chairman Dhammika Perera.