Vallibel Finance records robust financial earnings for 1H 2021/22, profits grow by impressive 158.1%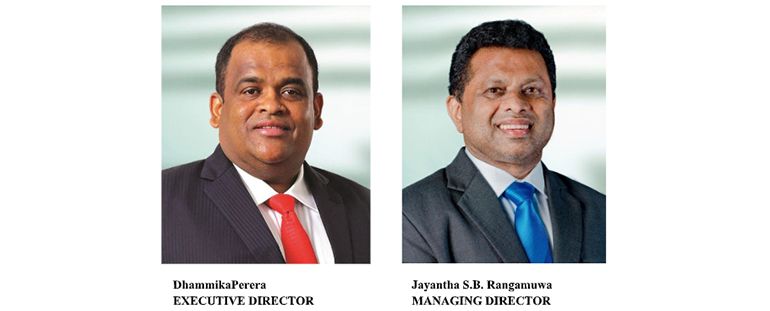 22-11-2021
Despite pandemic-induced economic challenges, Vallibel Finance PLC ended the first half of the 2021/22 financial year on a strong note, reflecting an upsurge in Gross Income by as much as 22.8% to reach Rs. 5.4Bn in comparison to Rs. 4.4Bn achieved in the first half of 2020/21. This stellar performance was secured by way of opening its loan book, expanding margins and ensuring competitive cost of funds. As a result, Profit for the period under review soared to Rs. 1.3Bn from Rs. 0.5Bnrecorded in the corresponding period in the previous year which reflects an unprecedented 158.1% growth.
Continuing on its robust growth trajectory, the Company reported a net interest income of Rs.2.7Bn for the first half of the financial year, up by a robust 52.1% from the same period in 2020, which demonstrates that the company continued to extend loans to customers to help them tide over the liquidity crunch and financial hardships caused by lockdowns and economic slowdown. Meanwhile, Interest Income showed a growth of 13.9%.Total Operating Income grew by 62.6% to Rs. 3.5Bn from Rs. 2.1Bn in the 1H 2021/22.
Commenting on the impressive financial performance, Managing Director of Vallibel Finance PLC, Jayantha S.B. Rangamuwa says, "We are pleased to report strong results for the first half of FY201/22. Vallibel Finance PLC has successfully sustained its total asset base at Rs. 65.5Bn as at 30th September 2021. The Company's capitalization levels and liquidity levels remain above regulatory minimums. Moreover, the loan portfolio reached Rs. 54.9Bn as at 30th September 2021, showing a solid growth of 15% over 31st March 2021. This performance infuses further confidence in our stakeholders."
Notwithstanding the challenges that abounded during the year under review, especially with regard to recovery and collections due to lockdowns and lower levels of economic activity, the Gross Non-Performing Loan (NPL) ratio was successfully maintained well below the industry norm at 5.51%.
Vallibel Finance has built a reputation as a highly-trusted financial services partner which is evident in the fact that during the year under review, the Company grew its deposit base from Rs. 32.1Bn to Rs. 35.0Bn despite the challenges emanating from the pandemic.
As a result of demonstrating exceptional performance across all its KPIs including growth, stability, profit and expansion in the face of challenges from the pandemic, Vallibel Finance was awarded the "Best Finance Company 2021" by Global Economics.
Further cementing its credentials in the financial space, Sri Lanka's premier financial services provider, Vallibel Finance PLC was recently crowned 'Best Vehicle Leasing Company 2021' by the prestigious Global Banking and FinanceReview.Leasing is its core business and the Company has expanded its leasing portfolio successfullyyear after year by offering speedy and flexible leasing solutions with greater customer convenience.
In conclusion, Chairman Vallibel Group, DhammikaPerera, added, "I am proud of Vallibel Finance for forging ahead as a market leader in the footsteps of the Vallibel Group. Its performance in the first half of the financial year under review despite the challenges from the pandemic reflects its strong management expertise and exceptional team".
Vallibel Finance PLC is on a strong growth trajectory and on target to achieve an even stronger financial performance in the year ahead, further boosted by the completion of its state-of-the-art headquarters which will be an iconic landmark in the city.