Vallibel Finance Inaugurates New Branches In Badulla And Kaduwela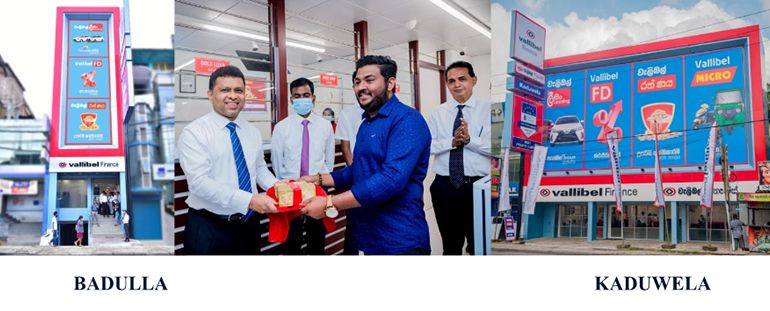 06-10-2022
Expanding its footprint into strategic locations across the country, Vallibel Finance opened two new branches in Badulla and Kaduwela recently. The inauguration ceremony of the two new branches was graced by Jayantha Rangamuwa, Managing Director of Vallibel Finance PLC, senior officials, branch staff and key customers.
As key economic centres, the two new locations promise a high demand for Vallibel Finance's wide range of financial services including Fixed Deposits, Leasing, Auto Draft Gold Loans, Micro-Finance products supported by a cutting-edge technological framework.
Jayantha Rangamuwa said, "As one of the most trusted and rapidly growing finance companies, Vallibel Finance has proved its professional approach and resilience amidst challenging external conditions to continue supporting our customers to access financial security.
Vallibel Finance provided financial support for customers engaged in industries which were particularly affected by the pandemic and economic crisis whilst maintaining non performing loans. We believe we have the right products and warm service levels to attract a vast customer base in the two new locations."
Vallibel Finance PLC yet again demonstrated its time-tested resilience and industry leadership status by achieving outstanding financial performance for the 2021/22 year despite the external challenges that prevailed through the period.The Company recorded a pre-tax profit of Rs. 4.7 billion (67.1% increase) in comparison with Rs. 2.8 billion recorded in 2020/21. Profit after Tax rose to Rs. 2.9 billion from Rs. 1.7 billion in the previous year.
The company's prudent financial discipline is reflected in its Non-Performing Loans (NPL) ratio strengthening to 2.73 % from 4.48% in the previous year despite the deterioration in the economy.
As a result of demonstrating exceptional performance across all its KPIs including growth, stability, profit and expansion in the face of challenges as at today, Vallibel Finance was awarded the "Best Finance Company 2022" for the 2nd consecutive year by The Global Economics UK.